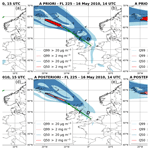 1

CNRM, Université de Toulouse, Météo-France, CNRS, Toulouse, France

2

Zentralanstalt für Meteorologie und Geodynamik (ZAMG), Vienna, 1190, Austria

3

Deutsches Zentrum für Luft- und Raumfahrt e.V. (DLR), Oberpfaffenhofen, Germany

4

Swedish Meteorological and Hydrological Institute (SMHI), Norrköping, 601 76, Sweden

5

Paris Lodron University of Salzburg (PLUS), Salzburg, 5020, Austria

6

Flightkeys GmbH, Vienna, 1060, Austria
Correspondence: Matthieu Plu (matthieu.plu@meteo.fr)
Received: 26 Mar 2021 – Discussion started: 09 Apr 2021 – Accepted: 24 Aug 2021 – Published: 05 Oct 2021
High-quality volcanic ash forecasts are crucial to minimize the economic impact of volcanic hazards on air traffic. Decision-making is usually based on numerical dispersion modelling with only one model realization. Given the inherent uncertainty of such an approach, a multi-model multi-source term ensemble has been designed and evaluated for the Eyjafjallajökull eruption in May 2010. Its use for flight planning is discussed. Two multi-model ensembles were built: the first is based on the output of four dispersion models and their own implementation of ash ejection. All a priori model source terms were constrained by observational evidence of the volcanic ash cloud top as a function of time. The second ensemble is based on the same four dispersion models, which were run with three additional source terms: (i) a source term obtained from a model background constrained with satellite data (a posteriori source term), (ii) its lower-bound estimate and (iii) its upper-bound estimate. The a priori ensemble gives valuable information about the probability of ash dispersion during the early phase of the eruption, when observational evidence is limited. However, its evaluation with observational data reveals lower quality compared to the second ensemble. While the second ensemble ash column load and ash horizontal location compare well to satellite observations, 3D ash concentrations are negatively biased. This might be caused by the vertical distribution of ash, which is too much diluted in all model runs, probably due to defaults in the a posteriori source term and vertical transport and/or diffusion processes in all models. Relevant products for the air traffic management are horizontal maps of ash concentration quantiles (median, 75 %, 99 %) at a finely resolved flight level grid as well as cross sections. These maps enable cost-optimized consideration of volcanic hazards and could result in much fewer flight cancellations, reroutings and traffic flow congestions. In addition, they could be used for route optimization in the areas where ash does not pose a direct and urgent threat to aviation, including the aspect of aeroplane maintenance.
Volcanic eruptions that spread out ash over large areas can have tremendous economic consequences, although they are relatively rare compared to other high-impact natural hazards (such as tropical cyclones, storms, etc). For instance, the eruption of Eyjafjallajökull in 2010 forced the cancellation of about 100 000 flights and generated a EUR 1.4 billion loss to the airline operators (IATA, 2010). Considering the different levels of risks to safety when an aircraft encounters ash, including failure of aircraft turbines during operation (Guffanti et al., 2010; Alexander, 2013), flight cancellations and reroutings out of the ash-contaminated areas were the most common decision during this eruption.
In order to mitigate the consequences of such types of volcanic eruptions on aviation, operational centres continuously watch possible volcanic eruptions and issue warnings about ash dispersion in the atmosphere, which support the decisions in the frame of predefined procedures (Bolić and Sivčev, 2011). This watching and warning role worldwide has been the duty of Volcanic Ash Advisory Centres (VAACs). Following the consequences of the Eyjafjallajökull eruption in Europe, the London and Toulouse VAACs' procedures have changed, and they now also provide concentration charts in the flight level (FL) bands FL000-200, FL200-350, and FL350-550 for three contamination levels: 0.2 to 2 mg m−3 (low contamination), 2 to 4 mg m−3 (medium contamination), and (high contamination) (ICAO, 2016). These volcanic ash contamination charts (up to 18 h ahead) indicate hazardous zones and hazard levels, which can be used by authorities for flight safety.
Volcanic ash warnings and charts are based on the outputs from numerical prediction models. As a consequence, they are usually prone to large errors and uncertainties (Kristiansen et al., 2012; Dacre et al., 2016), which arise from the uncertainties in the ash source term, in the modelling of transport including meteorology, and in the parameterization of physical processes. Although these components have been improving thanks to active research (Beckett et al., 2020), it is highly probable that predictions with sufficient accuracy cannot be reached in the near future. The ash source term, i.e. the temporal evolution of volcanic ash mass emitted by the volcano at every vertical level and distributed over aerosol size groups, cannot be fully observed, and even after inversion of satellite observations some error and uncertainty remain (Kristiansen et al., 2012). Aerosol processes (sedimentation, washout and rainout, aggregation in the presence of liquid or solid water) and aerosol transport depend on the aerosols' representation in the model, and also on the meteorological conditions. The meteorological forecasts, for which error grows inevitably with time (Dacre et al., 2016) and which are essential input information for ash dispersion forecasts, also contribute significantly to uncertainties in ash forecasts. In order to account for the uncertainty of volcanic ash forecasts, some studies have already shown the added value of ensembles (Kristiansen et al., 2012). Consequently, they recommended using probabilistic forecasts in the decision process (Prata et al., 2019), in a similar manner as probabilistic meteorological weather forecasts, which have shown to have a large benefit compared to deterministic forecasts (Richardson, 2000; Osinski and Bouttier, 2018; Fundel et al., 2019).
Proof-of-concept studies for flight planning are in progress (Steinheimer et al., 2016) to use probabilistic meteorological forecasts to support aviation safety, capacity, and cost-efficiency. Regarding volcanic ash hazards, interest in ensemble prediction is also increasing among the meteorological operational community (such as VAACs). Beyond the important safety aspect, one potential application of probabilistic ash forecasts is related to ash dosage (i.e. the accumulated mass of ash encountered by the aircraft along its track), which is an important parameter to characterize the impact of ash on aircraft engines (Clarkson et al., 2016). While accumulated long-term exposure of ash at lower concentrations can also be a safety issue (e.g. 1 mg m−3 for about 3 h), low ash doses can lead to long-term damage to the engines and may require shorter maintenance intervals in order to prevent performance loss (Clarkson et al., 2016). Contaminated regions can be avoided by flight rerouting, but this increases costs due to delays and additional fuel. As a consequence, a cost  loss ratio (Richardson, 2000) can be considered in regions where ash concentrations remain below the safety margins, and in that sense, probabilistic ash forecasts (Prata et al., 2019) could be used to make optimal decisions for air traffic management (ATM). Such applications require good estimates of ash concentrations in four dimensions (3D space and time) as well as their uncertainty. Overall, cost-optimized consideration of volcanic hazards based on ensemble dispersion modelling could result in a significantly reduced impact on flight cancellations, rerouting, and traffic flow congestion during volcanic ash events (Rokitansky et al., 2019).
In the European Natural Airborne Disaster Information and Coordination System for Aviation (EUNADICS-AV) project, a multi-model approach has been developed and assessed on several test cases. The outputs from several models were collected to build a mini-ensemble and probabilistic charts of ash concentrations. This ensemble has a 0.1∘ horizontal resolution for a large Euro-Atlantic domain, and provides information on 13 vertical FLs. The integration of these data into a flight-planning software and their relevance for ATM were shown during an exercise simulating a fictitious crisis situation (Hirtl et al., 2020).
The purpose of the present article is to provide more precise understanding of the performance and benefit of the multi-model multi-source-term ensemble approach developed during the EUNADICS-AV project, using measurements as a reference for comparison. The performance of individual model runs performed with four models using four different source terms each is also evaluated to better understand ensemble characteristics and benefits. The uncertainty of the meteorological conditions was not taken into account; i.e. meteorological analyses were concatenated with short-term forecasts.
The study focuses on a particular period of the Eyjafjallajökull eruption from 13 to 20 May 2010, when ash spread across the North Sea and the Atlantic Ocean, and then over continental Europe. During this period, the number of measurements was particularly high compared to other phases of the eruption. Dacre et al. (2016) pointed out a low predictability of the dispersion of ash during this period, and they studied how the error grew with time. Their study emphasized the need for ensemble approaches in order to deal with uncertainty. For the same phase of the eruption, Kristiansen et al. (2012) compared two different models with different source terms. They showed overall a good agreement between models, and that the ensemble obtained as the mean ash concentration of the different models (a mean ensemble) usually, but not generally, outperforms any of the models.
The outline of the present article is as follows: Sect. 2 gives a description of the models, the source terms, and the reference data. Section 3 compares the model outputs and evaluates them against reference observations. Section 4 presents how mini-ensembles are built and compares them to reference observations as well. Section 5 discusses how such an ensemble can be used in flight planning for future eruptions. Conclusions are drawn in Sect. 6.
2
 Models and observations
3
 Differences between model outputs
3.1

 Method and metrics

Most of the model diagnostics presented in the article are based on the model data at 0.1∘ resolution, except for the ash location scores compared to the VACOS observations, which are calculated in a smaller domain at 0.2∘ resolution as shown in Fig. 3. Mean values are computed to pass on the model 0.1∘ resolution data to the 0.2∘ resolution grid. For the 3 km resolved VACOS data, a 0.2∘ grid cell is considered contaminated at instant H, if a 50 % fraction of VACOS pixels inside the 0.2∘ grid box at H−15 min, H, and H+15 min are above 0.2 g m−2. This choice has been made after some tests of different thresholds and time slots. It allows the detection of ash plumes (Fig. 3) while limiting noise and false alarms. Ash retrieval, however, is limited in the presence of clouds.

Figure 3 shows ash column load derived with the VACOS algorithm on several days. Ash load varies between 0.2 and 2 g m−2. Significant amounts of ash are found close to the British north-west coast and above Scotland on 14 and 16 May, which is in good agreement with Prata and Prata (2012), who also used SEVIRI data to derive Eyjafjallajökull volcanic ash concentrations. The distribution of ash load obtained by Prata and Prata (2012) peaks at 3 g m−2, while the VACOS ash load peaks between 1 and 2 g m−2. Comparisons between VACOS data and ash column mass loadings derived by Francis et al. (2012) on 17 May also reveal a rather good agreement, with around 1 g m−2 east of England. Over all dates considered, VACOS ash load is within the range of values found in the literature.
The fraction skill score (FSS) is a meaningful metric to assess the performance of volcanic ash dispersion simulations by determining the scale over which a simulation has skill for the location of ash plumes along the horizontal dimensions (Harvey and Dacre, 2016). It is calculated as
with N being the total number of grid points in the verification area and Mj(r) and Oj(r) being the fractions of contaminated grid points within the circle of radius r around point j, for the model and the observations, respectively. Before the computation of FSS(r), a normalization step was applied, where the G most contaminated grid points were determined for VACOS and model data. For VACOS, all grid points (within the verification area) with ash load higher than 0.2 g m−2 are assumed to be contaminated; G is defined as the number of these grid points. For each model output, the G grid points with the highest ash column load in the domain are kept for further analysis and used to calculate the FSS. This implies that a different set of G grid points is derived compared to those determined from the VACOS data. After the normalization step, the FSS is a measure of the performance of the models to locate the most intense ash features, and it filters out the amplitude errors. In the Supplement (Fig. S7 in the Supplement), the FSS without normalization largely reflects the amplitude error of ash load. A model has skill at a given scale if the FSS is above 0.5; the higher the FSS, the better the model performance.
3.2

 Ash location

Generally speaking and not surprisingly, the FSS after normalization (Fig. 4) increases with the radius of detection (50, 200, 500 km). While the models' FSSs at 50 km do not always exceed the 0.5 threshold, the FSSs at 500 km are clearly higher than 0.5, except after 19 May, when the eruption stopped and scores are less relevant. The FSSs based on the a posteriori source term (Fig. 4b, d, and e) are generally higher than the ones based on the a priori source terms, particularly for the 50 and 200 km radii. There is a large variability of scores between the models, although this variability is lower for the models with the same a posteriori source term. Snapshot ash load maps can help to analyse the FSS scores and the performances of the models and/or of the observation shortcomings, e.g. clouds hindering satellite observations.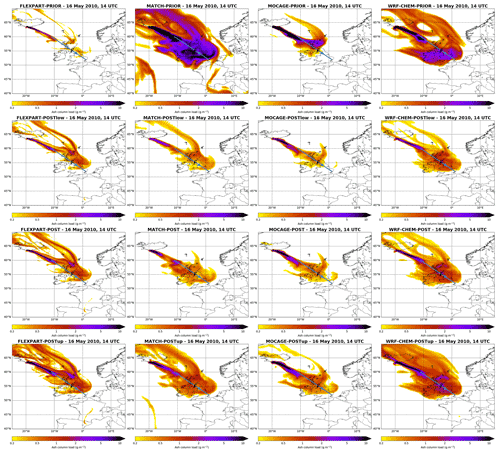 On 16 May at 14:00 UTC, the highest values of ash in VACOS (Fig. 3) follow a plume that starts at Iceland and ends with a large patch of ash above Scotland. The simulated ash plumes have quite different shapes and magnitudes of ash load when using different a priori source terms (first row of Fig. 5). While all models capture the plume that crosses the Atlantic from Iceland to Scotland, the ash patch is not obvious or not well located in all model simulations. This explains the rather large differences in FSSs for 50 and 200 km radii (Fig. 4a, c, and e; FSSs 50 and 200 km of a priori runs on 16 May at 14:00 UTC: MATCH=0.41 and 0.65, MOCAGE=0.46 and 0.69, FLEXPART=0.57 and 0.85, WRF-Chem=0.35 and 0.60).
FSSs of the a posteriori source term runs at the same instant (right panels of Fig. 4) reveal that the highest ash loads are better captured by the models (FSS 50/200 km of a posteriori runs on 16 May at 14:00 UTC: MATCH=0.43 and 0.71, MOCAGE=0.60 and 0.82, FLEXPART=0.54 and 0.76, WRF-Chem=0.64 and 0.86) except for FLEXPART. This is due to a better representation of the ash cloud above Scotland as seen in Fig. 5, third row. For FLEXPART, however, the lower total mass and mostly lower-altitude a priori emissions around 15 and 16 May (see Fig. 1) better fit the VACOS ash column locations (compare middle panel in Fig. 3 and first panel in the first row of Fig. 5) and especially ash loads (see Figs. S1 and S4 in the Supplement), whereas ash emission according to the a posteriori was roughly 1 order of magnitude larger and reached constantly up to around 8 km (compare Figs. 1 and 2). The Stohl et al. (2011) source term was constrained by SEVIRI and IASI data retrievals available in 2010, which can be expected to differ from the VACOS data. Nevertheless, it should be emphasized that this finding of the a priori outperforming the a posteriori based on the evaluation against VACOS data may well be limited to the period of investigation of this study, which is one of the few periods of the overall eruption period as evaluated by Stohl et al. (2011) where the a priori total flux sometimes lies below the a posteriori one.
Ash column loads of the lower- and upper-bound simulations (second and fourth row of Fig. 5) show significant differences. At first sight, the differences between the different a posteriori source term bounds for the same model are in a similar range as the differences between two models with the same best estimate a posteriori source term. Comparison with ash load using the a priori source terms (first row of Fig. 5) shows that the simulations with the a posteriori source terms do not reach the extreme values that can be reached with the simulation with the a priori source terms. The analysis and evaluation of model ash load on 14 May at 15:00 UTC and on 17 May at 16:00 UTC (Figs. S1 and S4) support these findings. According to the different figures, the FLEXPART simulations seem to represent thinner ash filaments, which is probably consistent with the properties of a Lagrangian model.
As a conclusion, the comparison of FSSs and of ash column load maps helps to understand the relative performance of models and the origin of their differences. When using different (a priori) source terms, large differences in ash load magnitude and location of ash can be observed. Differences in ash load can generally be attributed to differences in MER (Figs. 1 and 2). Using the same a posteriori source term generates simulations with similar magnitudes of ash load and similar location of ash in the models, but some differences in ash load and details in plume shapes are obvious. If models were forced by meteorological forecasts (instead of analyses), larger differences in plume location and ash load can be expected.
3.3

 Ash vertical distributions

Cross sections of ash concentrations on 16 May at 14:00 UTC (Fig. 6) reveal that ash tends to appear at all vertical levels from the ground up to the top of the plume. The simulations using different a priori source terms show quite different cross sections in shape and concentration load. The simulations with the same a posteriori source term show a rather similar shape, with the highest values following an westward upward line. However, they differ significantly in intensity.

While all simulations show ash reaching the ground, the Marenco et al. (2011) airborne measurements, at the same time and in the same area, identified an ash layer only between 4 and 6 km, above the United Kingdom, which corresponds to approximately 5∘ W to 0∘ longitude in Fig. 6. This behaviour is also supported by cross sections shown in the Supplement.

The presence of ash at all levels can be due to the source term or due to the representation of vertical processes in the models, and it is possible to provide arguments to help disentangle the two. For most of the source terms, except the MOCAGE a priori one, ash is injected at all layers, and the umbrella-shaped source terms of MATCH and WRF-Chem also tend to emit more ash in the upper levels (Fig. 1). Since the simulated ash by these models tends to extend largely along the vertical (Fig. 6), vertical parameterizations and processes including grid-scale vertical velocity, diffusion, aerosol sedimentation, and/or vertical resolution should probably be improved. Consequently, from this study alone, it is not possible to conclude whether the a posteriori source term is too diluted along the vertical or not.
4
 Building ensembles and evaluating their quality
Ensemble forecasting has a 30-year-long history in meteorology (Buizza, 2019), from which some guidelines and pitfalls can be learned for an extension to volcanic ash dispersion forecasting. The first lesson learned is that all possible sources of uncertainty should be taken into account. The possible methods to take into account the uncertainty (perturbations or stochastic representation of features) can be diverse and have been an active field of research (Leutbecher et al., 2017). Another lesson learned is that the evaluation of ensembles is critical and is usually done based on long-period data sets for which homogeneous ensembles are run and compared against measurements. Usually, the evaluation metrics are used to further design the perturbation methods or bounds. Regarding rare events such as volcanic eruptions, for which observations are rare, evaluation of ensembles is clearly a more difficult task.
5
 Discussion: use of ensembles for flight planning
Given the threat of ash for flight safety and given the uncertainty of ash dispersion forecasts, the use of probabilistic products is important but not straightforward. The ICAO (2016) plan and latest versions thereof say that the airlines are those that choose how to address the volcanic ash hazard, provided they have their safety risk assessment for operations in the presence of volcanic ash accepted by the appropriate authority. Prata et al. (2019) introduced a risk-matrix approach that combines ash concentration and ash dosage (accumulated ash concentration along the flight route) with likelihood obtained from the ensemble uncertainty. Their ensemble was based on one model with different model parameters, source terms, and meteorology. It was evaluated based on a synthetic hypothetical use case.
In this study on a real case, we found considerable differences in ash location and ash concentrations due to the model choice, indicating that a multi-model ensemble increases information about uncertainty. Even though the a posteriori ensemble was, in general, in better agreement with the observations, an a priori ensemble is preferred for flight planning as it is also available in near-real time during the early phase of an eruption. The a posteriori source term can only be computed if a sufficient number of measurements are available. Due to the limited number of ground-based measurements, the missing temporal coverage of measurements from polar-orbiting satellites, and only a few instruments on geostationary satellites, it usually takes a couple of hours to days to gather sufficient high-quality ash measurements to compute the a posteriori source term. Thus, a better quality of past ash dispersion and therefore better initial conditions for upcoming ash forecasts can only be obtained after several hours or even a few days. An a priori ensemble includes different realizations of the source term, the most important component of ash dispersion uncertainty. The wide range of these a priori ash dispersion forecasts, however, might result in too conservative of flight planning, which can only be eased when a refined a posteriori source term is available. An intermediate approach could be to update the a priori source term continuously by constraining the assumptions of the source term evolution with updated measurements, or plume height estimates for instance.
The evaluation of both ensembles revealed that ash location and load are in good agreement with the observations. However, the vertical structure of ash clouds is not correctly represented by the models, and ash concentrations at individual flight levels are biased low. Therefore, care must be taken concerning flight rerouting. Flying between distinct layers of ash would only be possible knowing the precise vertical structure of ash clouds, which is clearly not the case. However, the models provide useful guidance in the sense that flying above the predicted clouds and also around highly contaminated regions may be possible.
Ash concentrations smaller than 2 mg m−3 are considered safe. Ash concentrations higher than 80 mg m−3 are definitely considered unsafe (Clarkson et al., 2016). Following a conservative approach, we therefore recommend avoiding regions within the 2 mg m−3 contour line of the Q99 of the a priori ensemble. Looking at Fig. 10, such no-fly areas would include a thin plume from Iceland to the United Kingdom on 14 May, a small band south-east of Iceland on 16 May, and a larger band which spreads from the east of Iceland along the 65∘ latitude towards the North Sea on 17 May. The days 16 and 17 May were the most severely affected by flight cancellations during the considered time period of this study, when 20 % and 31 % of all flights were cancelled in Ireland and 19 % and 26 % in the UK (EUROCONTROL, 2010). Knowing that the vertical distribution of ash is not correctly represented in the models, vertical cross sections can nevertheless be used to estimate the upper height limit of the ash cloud. The cross sections shown in Fig. 11 reveal high ash concentration on 14, 16, and 17 May at different vertical levels for the a priori ensemble. Such hazardous regions are not obvious in the a posteriori ensemble. Considering the entire 3D field of ash concentration and using an appropriate flight planning software (Rokitansky et al., 2019; Hirtl et al., 2020) would help to avoid these regions.
Flight cancellations can therefore be avoided by flying through lower contaminated regions as demonstrated during the EUNADICS-AV exercise (Hirtl et al., 2020). Maintenance intervals of individual aircraft can then be obtained with flight planning software accumulating ash dose along relevant flight routes. In a later perspective, the quantiles can be used to optimize the cost  loss function, in a similar approach as the one developed by other end-users of meteorological ensemble forecasting (Richardson, 2000).
This approach would lead to better management during future volcanic eruption crises. Probabilistic ash concentration forecasts, combined with certain "no-fly" areas, could become the future operational ash products, enabling safety as well as cost considerations of flying in the presence of such hazards. This would result in much less impact caused by flight cancellations and a reduced number of reroutings and traffic flow congestion during volcanic ash events.
6
 Summary and conclusions
This article has presented an inter-comparison of volcanic ash forecasts using different models and different source terms for the Eyjafjallajökull eruption in May 2010. Furthermore, a methodology to build and use an ensemble for ATM and flight planning was discussed. Most important findings include the following.
Large differences in ash location and ash load were found when models were run with their individual a priori source terms, which confirms that ash dispersion forecasts are highly sensitive to the volcanic ash source term.

An a posteriori source term together with its perturbation can be shared and used as input for any model, yielding a multi-model ensemble; this a posteriori ensemble performs satisfactorily for ash location in two dimensions and for ash column load.

The main shortcoming of all simulations is the vertical representation of ash concentration, which is evenly distributed over a wide vertical range without distinct layers of ash. Therefore, the vertical distribution of ash would need to be improved in relation to the source term – even after inversion – but also as a consequence of vertical aerosol processes in models (sedimentation, diffusion, aggregation). Even with a vertically layered source term, there is high vertical diffusion of concentrations some hours after the emission.

Quantiles of concentrations are relevant products for ATM. They can be used for route optimization in the areas where ash does not pose a direct and urgent threat to aviation. Probabilistic ash concentration forecasts combined with safe "no-fly" areas can become a future operational product for ATM.

The a priori ensemble is also available in near-real time in the early phase of an eruption, but the wide range of areas affected by ash dispersion will in most cases lead to very conservative flight planning. This behaviour might be case-dependent, although experience shows that a priori source terms rather overestimate ash emissions. Therefore, flight rerouting can be based first on an a priori ensemble, and only at a later stage, when the a posteriori ensemble is available, can less conservative approaches be taken for flying through low-concentration ash clouds.
In this study, only source term and model process uncertainty have been taken into account. In real conditions, the meteorological forecast error cannot be neglected and would also increase the spread in plume location and ash column loads.
A rigorous evaluation of any ensemble should be done for a large number of cases, which is difficult for rare events such as volcanic eruptions. In addition, few measurements are available, hindering a comprehensive ensemble evaluation. The use of observations by assimilation along the vertical (such as lidar data) could improve the model and ensemble representation of ash, even though such measurements remain rare and are available only where the ash plume is thin enough to be penetrated by the lidar.
The proposed methodology cannot only be applied for ash dispersion during volcanic eruptions but also for other air pollutants, such as SO2, desert dust, or forest fires. Every airspace closure or even rerouting of aeroplanes immediately increases the costs for airlines, so they could introduce in their risk management plan some acceptance to fly at least through regions which are below the safety-critical pollutant concentration threshold. For future natural disasters, cost and disruption of air traffic could be eliminated to a great extent by including the results of dispersion models into flight planning software to apply cost-based trajectory optimizations.
The ensemble data are available in NetCDF, CF-compliant format, upon request to the corresponding author. The ash concentration, as described in the article, cover the percentiles Q50, Q75, and Q99 at 13 FLs on a 0.1∘ resolution grid. Instants of validity are from 13 to 20 May 2010, at an hourly step. Two ensembles are available: one using the a priori source terms and one using the a posteriori source terms.
MP developed the ensemble design and diagnostics and coordinated the writing. BSP prepared some diagnostics and contributed to article plan and text. With MH and RB, BSP designed and ran WRF-Chem. GB and LEA designed and ran MOCAGE. GB developed some model scores. AC and LR designed and ran MATCH. DAA, CM, and MDM designed and ran FLEXPART. LB and DP provided VACOS data and information for the study. CHR, KE, FZ, and RZ contributed to the ATM-related text.
The authors declare that they have no conflict of interest.
Publisher's note: Copernicus Publications remains neutral with regard to jurisdictional claims in published maps and institutional affiliations.
This article is part of the special issue "Analysis and prediction of natural airborne aviation hazards". It is not associated with a conference.
This work has been conducted within the framework of the EUNADICS-AV project, which received funding from the European Union's Horizon 2020 research programme for Societal Challenges – Smart, Green and Integrated Transport under grant agreement no. 723986.
This paper was edited by Gerhard Wotawa and reviewed by Claire Witham, Tatjana Bolic, Andreas Becker, and Ole Ross.
Alexander, D.: Volcanic ash in the atmosphere and risks for civil aviation: A study in European crisis management, Int. J. Disast. Risk Sc., 4, 9–19, https://doi.org/10.1007/s13753-013-0003-0, 2013. a
Andersson, C., Langner, J., and Bergström, R.: Interannual variation and trends in air pollution over Europe due to climate variability during 1958–2001 simulated with a regional CTM coupled to the ERA40 reanalysis, Tellus B, 59, 77–98, 2007. a
Andersson, C., Bergström, R., Bennet, C., Robertson, L., Thomas, M., Korhonen, H., Lehtinen, K. E. J., and Kokkola, H.: MATCH-SALSA – Multi-scale Atmospheric Transport and CHemistry model coupled to the SALSA aerosol microphysics model – Part 1: Model description and evaluation, Geosci. Model Dev., 8, 171–189, https://doi.org/10.5194/gmd-8-171-2015, 2015. a
Arason, P., Petersen, G. N., and Bjornsson, H.: Observations of the altitude of the volcanic plume during the eruption of Eyjafjallajökull, April–May 2010, Earth Syst. Sci. Data, 3, 9–17, https://doi.org/10.5194/essd-3-9-2011, 2011. a, b
Beckett, F. M., Witham, C. S., Leadbetter, S. J., Crocker, R., Webster, H. N., Hort, M. C., Jones, A. R., Devenish, B. J., and Thomson, D. J.: Atmospheric Dispersion Modelling at the London VAAC: A Review of Developments since the 2010 Eyjafjallajökull Volcano Ash Cloud, Atmosphere, 11, 352, https://doi.org/10.3390/atmos11040352, 2020. a
Bolić, T. and Sivčev, Z.: Eruption of Eyjafjallajökull in Iceland: Experience of European Air Traffic Management, Transport. Res. Rec., 2214, 136–143, https://doi.org/10.3141/2214-17, 2011. a
Bugliaro, L., Piontek, D., Kox, S., Schmidl, M., Mayer, B., Müller, R., Vázquez-Navarro, M., Peters, D. M., Grainger, R. G., Gasteiger, J., and Kar, J.: Combining radiative transfer calculations and a neural network for the remote sensing of volcanic ash using MSG/SEVIRI, Nat. Hazards Earth Syst. Sci. Discuss. [preprint], https://doi.org/10.5194/nhess-2021-270, in review, 2021. a
Buizza, R.: Introduction to the special issue on "25 years of ensemble forecasting", Q. J. Roy. Meteor. Soc., 145, 1–11, https://doi.org/10.1002/qj.3370, 2019. a
Chen, F. and Dudhia, J.: Coupling an advanced land surface–hydrology model with the Penn state–NCAR MM5 modeling system. Part I: Model implementation and sensitivity, Mon. Weather Rev., 129, 569–585, https://doi.org/10.1175/1520-0493(2001)129<0569:CAALSH>2.0.CO;2, 2001. a
Clarkson, R. J., Majewicz, E. J. E., and Mack, P.: A re-evaluation of the 2010 quantitative understanding of the effects volcanic ash has on gas turbine engines, J. Aerospace Eng., 230, 2274–2291, https://doi.org/10.1177/0954410015623372, 2016. a, b, c
Dacre, H. F., Harvey, N. J., Webley, P. W., and Morton, D.: How accurate are volcanic ash simulations of the 2010 Eyjafjallajökull eruption?, J. Geophys. Res.-Atmos., 121, 3534–3547, https://doi.org/10.1002/2015JD024265, 2016. a, b, c, d
de Laat, A., Vazquez-Navarro, M., Theys, N., and Stammes, P.: Analysis of properties of the 19 February 2018 volcanic eruption of Mount Sinabung in S5P/TROPOMI and Himawari-8 satellite data, Nat. Hazards Earth Syst. Sci., 20, 1203–1217, https://doi.org/10.5194/nhess-20-1203-2020, 2020. a
EUROCONTROL: Ash-cloud of April and May 2010: Impact on Air Traffic, Statfor/doc394 v1.0 28/6/10, EUROCONTROL/CND/STATFOR, available at: https://www.eurocontrol.int/publication/ash-cloud-april-and-may-2010-impact-air-traffic (last access: 12 February 2021), 2010. a
Folch, A., Costa, A., and Macedonio, G.: FPLUME-1.0: An integral volcanic plume model accounting for ash aggregation, Geosci. Model Dev., 9, 431–450, https://doi.org/10.5194/gmd-9-431-2016, 2016. a
Forster, C., Stohl, A., and Seibert, P.: Parameterization of convective transport in a Lagrangian particle dispersion model and its evaluation, J. Appl. Meteorol. Clim., 46, 403–422, https://doi.org/10.1175/JAM2470.1, 2007. a
Francis, P. N., Cooke, M. C., and Saunders, R. W.: Retrieval of physical properties of volcanic ash using Meteosat: A case study from the 2010 Eyjafjallajökull eruption, J. Geophys. Res.-Atmos., 117, D00U09, https://doi.org/10.1029/2011JD016788, 2012. a, b
Fundel, V. J., Fleischhut, N., Herzog, S. M., Göber, M., and Hagedorn, R.: Promoting the use of probabilistic weather forecasts through a dialogue between scientists, developers and end-users, Q. J. Roy. Meteor. Soc., 145, 210–231, https://doi.org/10.1002/qj.3482, 2019. a, b
Grell, G. A. and Freitas, S. R.: A scale and aerosol aware stochastic convective parameterization for weather and air quality modeling, Atmos. Chem. Phys., 14, 5233–5250, https://doi.org/10.5194/acp-14-5233-2014, 2014. a
Grell, G. A., Peckham, S. E., Schmitz, R., McKeen, S. A., Frost, G., Skamarock, W. C., and Eder, B.: Fully coupled "online" chemistry within the WRF model, Atmos. Environ., 39, 6957–6975, https://doi.org/10.1016/j.atmosenv.2005.04.027, 2005. a
Guffanti, M., Casadevall, T. J., and Budding, K.: Encounters of aircraft with volcanic ash clouds; A compilation of known incidents, 1953–2009, US geological survey data series 545, US Department of the Interior and US Geological Survey, available at: http://pubs.usgs.gov/ds/545 (last access: 4 October 2021), plus 4 appendixes including the compilation database, 2010. a
Guth, J., Josse, B., Marécal, V., Joly, M., and Hamer, P.: First implementation of secondary inorganic aerosols in the MOCAGE version R2.15.0 chemistry transport model, Geosci. Model Dev., 9, 137–160, https://doi.org/10.5194/gmd-9-137-2016, 2016. a, b
Harvey, N. J. and Dacre, H. F.: Spatial evaluation of volcanic ash forecasts using satellite observations, Atmos. Chem. Phys., 16, 861–872, https://doi.org/10.5194/acp-16-861-2016, 2016. a
Hirtl, M., Stuefer, M., Arnold, D., Grell, G., Maurer, C., Natali, S., Scherllin-Pirscher, B., and Webley, P.: The effects of simulating volcanic aerosol radiative feedbacks with WRF-Chem during the Eyjafjallajökull eruption, April and May 2010, Atmos. Environ., 198, 194–206, https://doi.org/10.1016/j.atmosenv.2018.10.058, 2019. a
Hirtl, M., Arnold, D., Baro, R., Brenot, H., Coltelli, M., Eschbacher, K., Hard-Stremayer, H., Lipok, F., Maurer, C., Meinhard, D., Mona, L., Mulder, M. D., Papagiannopoulos, N., Pernsteiner, M., Plu, M., Robertson, L., Rokitansky, C.-H., Scherllin-Pirscher, B., Sievers, K., Sofiev, M., Som de Cerff, W., Steinheimer, M., Stuefer, M., Theys, N., Uppstu, A., Wagenaar, S., Winkler, R., Wotawa, G., Zobl, F., and Zopp, R.: A volcanic-hazard demonstration exercise to assess and mitigate the impacts of volcanic ash clouds on civil and military aviation, Nat. Hazards Earth Syst. Sci., 20, 1719–1739, https://doi.org/10.5194/nhess-20-1719-2020, 2020. a, b, c, d
Iacono, M. J., Delamere, J. S., Mlawer, E. J., Shephard, M. W., Clough, S. A., and Collins, W. D.: Radiative forcing by long-lived greenhouse gases: Calculations with the AER radiative transfer models, J. Geophys. Res., 113, D13103, https://doi.org/10.1029/2008JD009944, 2008. a
IATA: IATA annual report 2010, Tech. Rep., International Air Transport Association, available at: https://www.iata.org/contentassets/c81222d96c9a4e0bb4ff6ced0126f0bb/iataannualreport2010.pdf (last access: 4 October 2021), 2010. a
ICAO: Volcanic Ash Contingency Plan – European and North Atlantic Regions, EUR Doc 019, NAT Doc 006, Part II – EUR/NAT VACP, International Civil Aviation Organisation, available at: https://www.icao.int/EURNAT/EUR and NAT Documents/EUR+NAT VACP v2.0.1.pdf (last access: 5 October 2021), 2016. a, b
Kox, S., Bugliaro, L., and Ostler, A.: Retrieval of cirrus cloud optical thickness and top altitude from geostationary remote sensing, Atmos. Meas. Tech., 7, 3233–3246, https://doi.org/10.5194/amt-7-3233-2014, 2014. a
Kristiansen, N. I., Stohl, A., Prata, A. J., Bukowiecki, N., Dacre, H., Eckhardt, S., Henne, S., Hort, M. C., Johnson, B. T., Marenco, F., Neininger, B., Reitebuch, O., Seibert, P., Thomson, D. J., Webster, H. N., and Weinzierl, B.: Performance assessment of a volcanic ash transport model mini-ensemble used for inverse modeling of the 2010 Eyjafjallajökull eruption, J. Geophys. Res.-Atmos., 117, https://doi.org/10.1029/2011JD016844, 2012. a, b, c, d, e
Leutbecher, M., Lock, S.-J., Ollinaho, P., Lang, S. T. K., Balsamo, G., Bechtold, P., Bonavita, M., Christensen, H. M., Diamantakis, M., Dutra, E., English, S., Fisher, M., Forbes, R. M., Goddard, J., Haiden, T., Hogan, R. J., Juricke, S., Lawrence, H., MacLeod, D., Magnusson, L., Malardel, S., Massart, S., Sandu, I., Smolarkiewicz, P. K., Subramanian, A., Vitart, F., Wedi, N., and Weisheimer, A.: Stochastic representations of model uncertainties at ECMWF: state of the art and future vision, Q. J. Roy. Meteor. Soc., 143, 2315–2339, https://doi.org/10.1002/qj.3094, 2017. a
Marenco, F., Johnson, B., Turnbull, K., Newman, S., Haywood, J., Webster, H., and Ricketts, H.: Airborne lidar observations of the 2010 Eyjafjallajökull volcanic ash plume, J. Geophys. Res.-Atmos., 116, D00U05, https://doi.org/10.1029/2011JD016396, 2011. a, b, c, d
Mastin, L. G.: A user-friendly one-dimensional model for wet volcanic plumes, Geochem. Geophy. Geosy., 8, Q03014, https://doi.org/10.1029/2006GC001455, 2007. a, b
Mastin, L. G., Guffanti, M., Servranckx, R., Webley, P., Barsotti, S., Dean, K., Durant, A., Ewert, J. W., Neri, A., Rose, W. I., Schneider, D., Siebert, L., Stunder, B., Swanson, G., Tupper, A., Volentik, A., and Waythomas, C. F.: A multidisciplinary effort to assign realistic source parameters to models of volcanic ash-cloud transport and dispersion during eruptions, J. Volcanol. Geoth. Res., 186, 10–21, 2009. a, b, c
Morrison, H., Thompson, G., and Tatarskii, V.: Impact of cloud microphysics on the development of trailing stratiform precipitation in a simulated squall line: Comparison of one- and two-moment schemes, Mon. Weather Rev., 137, 991–1007, https://doi.org/10.1175/2008MWR2556.1, 2009. a
Nakanishi, M. and Niino, H.: An improved Mellor-Yamada level-3 model with condensation physics: Its design and verification, Bound.-Lay. Meteorol., 112, 1–31, https://doi.org/10.1023/B:BOUN.0000020164.04146.98, 2004. a
Osinski, R. and Bouttier, F.: Short-range probabilistic forecasting of convective risks for aviation based on a lagged-average-forecast ensemble approach, Meteorol. Appl., 25, 105–118, https://doi.org/10.1002/met.1674, 2018. a
Pavolonis, M. J., Heidinger, A. K., and Sieglaff, J.: Automated retrievals of volcanic ash and dust cloud properties from upwelling infrared measurements, J. Geophys. Res.-Atmos., 118, 1436–1458, https://doi.org/10.1002/jgrd.50173, https://doi.org/10.1002/jgrd.50173, 2013. a
Piontek, D., Bugliaro, L., Kar, J., Schumann, U., Marenco, F., Plu, M., and Voigt, C.: The New Volcanic Ash Satellite Retrieval VACOS Using MSG/SEVIRI and Artificial Neural Networks: 2. Validation, Remote Sens., 13, 3128, https://doi.org/10.3390/rs13163128, 2021a. a, b
Piontek, D., Bugliaro, L., Schmidl, M., Zhou, D. K., and Voigt, C.: The New Volcanic Ash Satellite Retrieval VACOS Using MSG/SEVIRI and Artificial Neural Networks: 1. Development, Remote Sens., 13, 3112, https://doi.org/10.3390/rs13163112, 2021b. a, b
Piontek, D., Hornby, A., Voigt, C., Bugliaro, L., and Gasteiger, J.: Determination of complex refractive indices and optical properties of volcanic ashes in the thermal infrared based on generic petrological compositions, J. Volcanol. Geotherm. Res., 411, 107 174, https://doi.org/10.1016/j.jvolgeores.2021.107174, 2021c. a
Piscini, A., Picchiani, M., Chini, M., Corradini, S., Merucci, L., Del Frate, F., and Stramondo, S.: A neural network approach for the simultaneous retrieval of volcanic ash parameters and SO2 using MODIS data, Atmos. Meas. Tech., 7, 4023–4047, https://doi.org/10.5194/amt-7-4023-2014, 2014. a
Pisso, I., Sollum, E., Grythe, H., Kristiansen, N. I., Cassiani, M., Eckhardt, S., Arnold, D., Morton, D., Thompson, R. L., Groot Zwaaftink, C. D., Evangeliou, N., Sodemann, H., Haimberger, L., Henne, S., Brunner, D., Burkhart, J. F., Fouilloux, A., Brioude, J., Philipp, A., Seibert, P., and Stohl, A.: The Lagrangian particle dispersion model FLEXPART version 10.4, Geosci. Model Dev., 12, 4955–4997, https://doi.org/10.5194/gmd-12-4955-2019, 2019. a
Prata, A. J.: Observations of volcanic ash clouds in the 10–12-micron window using AVHRR/2 Data, Int. J. Remote Sens., 10, 751–761, 1989a. a, b
Prata, A. J.: Radiative transfer calculations for volcanic ash clouds, Geophys. Res. Lett., 16, 1293–1296, 1989b. a
Prata, A. J. and Grant, I. F.: Retrieval of microphysical and morphological properties of volcanic ash plumes from satellite data: Application to Mt Ruapehu, New Zealand, Q. J. Roy. Meteor. Soc., 127, 2153–2179, https://doi.org/10.1002/qj.49712757615, 2001. a
Prata, A. J. and Prata, A. T.: Eyjafjallajökull volcanic ash concentrations determined using Spin Enhanced Visible and Infrared Imager measurements, J. Geophys. Res., 117, D00U23, https://doi.org/10.1029/2011JD016800, 2012. a, b, c
Prata, A. T., Dacre, H. F., Irvine, E. A., Mathieu, E., Shine, K. P., and Clarkson, R. J.: Calculating and communicating ensemble-based volcanic ash dosage and concentration risk for aviation, Meteorol. Appl., 26, 253–266, https://doi.org/10.1002/met.1759, 2019. a, b, c
Pugnaghi, S., Guerrieri, L., Corradini, S., Merucci, L., and Arvani, B.: A new simplified approach for simultaneous retrieval of SO2 and ash content of tropospheric volcanic clouds: an application to the Mt Etna volcano, Atmos. Meas. Tech., 6, 1315–1327, https://doi.org/10.5194/amt-6-1315-2013, 2013. a
Richardson, D. S.: Skill and economic value of the ECMWF Ensemble Prediction System, Q. J. Roy. Meteor. Soc., 126, 649–668, 2000. a, b, c
Robertson, L., Langner, J., and Engardt, M.: An Eulerian Limited-Area Atmospheric Transport Model, J. Appl. Meteor., 38, 190–210, 1999. a
Rokitansky, C.-H., Eschbacher, K., Zobl, F., and Zopp, R.: Benefit Assessment Report on new integrated prototype products and impact on European airspace, EUNADICS-AV report, deliverable D38, available at: https://archief06.archiefweb.eu/archives/archiefweb/2020111911 2158/http://www.eunadics.eu/sites/default/files/2019-10/EUNADICS-D38-Benefit Assessment Report on new integrated prototype products and impact on European airspace.pdf (last access: 4 October 2021), 2019. a, b
Schmetz, J., Pili, P., Tjemkes, S., Just, D., Kerkmann, J., Rota, S., and Ratier, A.: An Introduction to Meteosat Second Generation (MSG), B. Am. Meteorol. Soc., 83, 977–992, https://doi.org/10.1175/1520-0477(2002)083<0977:AITMSG>2.3.CO;2, 2002. a
Schumann, U., Weinzierl, B., Reitebuch, O., Schlager, H., Minikin, A., Forster, C., Baumann, R., Sailer, T., Graf, K., Mannstein, H., Voigt, C., Rahm, S., Simmet, R., Scheibe, M., Lichtenstern, M., Stock, P., Rüba, H., Schäuble, D., Tafferner, A., Rautenhaus, M., Gerz, T., Ziereis, H., Krautstrunk, M., Mallaun, C., Gayet, J.-F., Lieke, K., Kandler, K., Ebert, M., Weinbruch, S., Stohl, A., Gasteiger, J., Groß, S., Freudenthaler, V., Wiegner, M., Ansmann, A., Tesche, M., Olafsson, H., and Sturm, K.: Airborne observations of the Eyjafjalla volcano ash cloud over Europe during air space closure in April and May 2010, Atmos. Chem. Phys., 11, 2245–2279, https://doi.org/10.5194/acp-11-2245-2011, 2011. a, b
Steinheimer, M., Gonzaga-Lopez, C., Kern, C., Kerschbaum, M., Strauss, L., Eschbacher, K., Mayr, M., and Rokitansky, C.-H.: Air traffic management and weather: the potential of an integrated approach, in: INAIR 2016, edited by: Hromádka, M., 120–126, EDIS – Publishing Centre of University of Žilina, Vienna, Austria, available at: https://www.inair.uniza.sk/obsah/zbornik/INAIR_2016_ISSN.pdf (last access: 4 October 2021), 2016. a
Stohl, A., Hittenberger, M., and Wotawa, G.: Validation of the Lagrangian particle dispersion model FLEXPART against large scale tracer experiment data, Atmos. Environ., 32, 4245–4264, https://doi.org/10.1016/S1352-2310(98)00184-8, 1998.  a
Stohl, A., Forster, C., Frank, A., Seibert, P., and Wotawa, G.: Technical note: The Lagrangian particle dispersion model FLEXPART version 6.2, Atmos. Chem. Phys., 5, 2461–2474, https://doi.org/10.5194/acp-5-2461-2005, 2005. a
Stohl, A., Prata, A. J., Eckhardt, S., Clarisse, L., Durant, A., Henne, S., Kristiansen, N. I., Minikin, A., Schumann, U., Seibert, P., Stebel, K., Thomas, H. E., Thorsteinsson, T., Tørseth, K., and Weinzierl, B.: Determination of time- and height-resolved volcanic ash emissions and their use for quantitative ash dispersion modeling: the 2010 Eyjafjallajökull eruption, Atmos. Chem. Phys., 11, 4333–4351, https://doi.org/10.5194/acp-11-4333-2011, 2011. a, b, c, d, e, f, g, h, i
Strandgren, J., Bugliaro, L., Sehnke, F., and Schröder, L.: Cirrus cloud retrieval with MSG/SEVIRI using artificial neural networks, Atmos. Meas. Tech., 10, 3547–3573, https://doi.org/10.5194/amt-10-3547-2017, 2017. a
Stuefer, M., Freitas, S. R., Grell, G., Webley, P., Peckham, S., McKeen, S. A., and Egan, S. D.: Inclusion of ash and SO2 emissions from volcanic eruptions in WRF-Chem: development and some applications, Geosci. Model Dev., 6, 457–468, https://doi.org/10.5194/gmd-6-457-2013, 2013. a
Winker, D. M., Vaughan, M. A., Omar, A., Hu, Y., Powell, K. A., Liu, Z., Hunt, W. H., and Young, S. A.: Overview of the CALIPSO Mission and CALIOP Data Processing Algorithms, J. Atmos. Ocean. Tech., 26, 2310–2323, https://doi.org/10.1175/2009JTECHA1281.1, 2009. a