Articles | Volume 20, issue 11
https://doi.org/10.5194/nhess-20-2905-2020
© Author(s) 2020. This work is distributed under
the Creative Commons Attribution 4.0 License.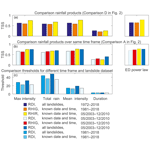 Deriving rainfall thresholds for landsliding at the regional scale: daily and hourly resolutions, normalisation, and antecedent rainfall
Rainfall thresholds are a simple and widely used method to forecast landslide occurrence. We provide a comprehensive data-driven assessment of the effects of rainfall temporal resolution (hourly versus daily) on rainfall threshold performance in Switzerland, with sensitivity to two other important aspects which appear in many landslide studies – the normalisation of rainfall, which accounts for local climatology, and the inclusion of antecedent rainfall as a proxy of soil water state prior to landsliding. We use an extensive landslide inventory with over 3800 events and several daily and hourly, station, and gridded rainfall datasets to explore different scenarios of rainfall threshold estimation. Our results show that although hourly rainfall did show the best predictive performance for landslides, daily data were not far behind, and the benefits of hourly resolutions can be masked by the higher uncertainties in threshold estimation connected to using short records. We tested the impact of several typical actions of users, like assigning the nearest rain gauge to a landslide location and filling in unknown timing, and we report their effects on predictive performance. We find that localisation of rainfall thresholds through normalisation compensates for the spatial heterogeneity in rainfall regimes and landslide erosion process rates and is a good alternative to regionalisation. On top of normalisation by mean annual precipitation or a high rainfall quantile, we recommend that non-triggering rainfall be included in rainfall threshold estimation if possible. Finally, while antecedent rainfall threshold approaches used at the local scale are not successful at the regional scale, we demonstrate that there is predictive skill in antecedent rain as a proxy of soil wetness state, despite the large heterogeneity of the study domain.
Received: 15 Apr 2020 – Discussion started: 27 Apr 2020 – Revised: 17 Jul 2020 – Accepted: 31 Aug 2020 – Published: 03 Nov 2020
Landslides are a natural hazard that affects alpine regions worldwide, resulting in substantial economic losses and human casualties (Kjekstad and Highland, 2009). Landslides can be initiated by different triggering factors but mainly rainfall and earthquakes. Economic losses connected to landsliding are estimated to be between USD 0.5 billion and 5 billion annually for the European Alps region (e.g. Salvati et al., 2010; Trezzini et al., 2013; Klose, 2015; Kjekstad and Highland, 2009), and similar losses are also reported for Canada and the United States (e.g. Kjekstad and Highland, 2009; Schuster, 1996; Mirus et al., 2020). Petley (2012) carried out a global study over a 7-year period (2004–2010) and found a total of 2620 non-seismically triggered landslides causing 32 322 fatalities. Clearly, the socio-economic impact of landslides is large and this natural hazard requires attention in the form of risk mapping, better prediction, and early warning systems.
The focus in this work is on rainfall-induced shallow landslides, which are the predominant type of landslides in Switzerland and other alpine environments. These are landslides where the entire soil (upper regolith) fails along a weathered bedrock interface, and they develop quickly, leading to mass failure following soil-saturating rainfall (e.g. Highland and Bobrowsky, 2008). Despite their smaller size, these landslides can be widespread and have the potential to damage infrastructure (railways, roads), homes, and even lead to fatalities. For instance, in Switzerland, a total of EUR 520 million in damage was recorded in the period 1972–2007 and 32 people lost their life due to shallow landslides (Hilker et al., 2009).
One of the most widespread approaches for the prediction of triggering conditions leading to rainfall-induced landslides is that of rainfall thresholds (e.g. Stevenson, 1977; Caine, 1980; Guzzetti et al., 2007), which are used operationally in many countries (e.g. see reviews in Guzzetti et al., 2020; Piciullo et al., 2018). These can be based on any rainfall property but most frequently are assumed to be power law curves in the intensity-duration (ID) or the total rainfall-duration (ED) space. The reasoning behind this choice is that two different storm types may be responsible for the initiation of landslides: short and intense, or long-lasting and typically less intense. Many approaches exist to formulate and estimate ID or ED curves, and they differ in the accuracy of the landslide inventory, the rainfall records used, the definition of rainfall events, the statistical methodology for threshold definition, and the validation technique, among others (see review in Segoni et al., 2018).
One of the main aspects in which the approaches differ is the choice of rainfall temporal resolution, typically forced by data availability. The short and intense events responsible for local soil saturation and triggering of landslides are usually associated with convective activity, which can last for just a few hours (e.g. Molnar and Burlando, 2008). For this reason, hourly thresholds are expected to be more appropriate for landslide prediction. There is some evidence for this in the literature. For example, Marra (2019) shows the underestimation of rainfall thresholds as the temporal resolution of rainfall is coarsened with a numerical experiment, while Gariano et al. (2020) demonstrate a similar effect on a real case dataset where reported landslides are combined with rain gauge records aggregated to different temporal resolutions. At the same time, daily rainfall thresholds or ID curves may also exhibit good predictive power for landsliding, e.g. as shown in a comprehensive analysis in Switzerland (Leonarduzzi et al., 2017). So the following question arises: how does the temporal resolution of the rainfall data actually affect landslide prediction?
We address this question with a data analysis experiment, where we take into account realistic conditions and consequences of different temporal resolutions of data. For example, choosing a higher resolution (e.g. hourly) has several undesirable consequences: (a) rainfall records are typically shorter (hourly records are only available in automatic networks in more recent decades); (b) rainfall records are likely to be less dense in space, leading to poorer matching with landslide locations; and (c) landslide inventories are typically less rich (requiring timing and not only date of occurrence) or more uncertain, especially for older events that were reconstructed from newspaper articles or other indirect sources. All these aspects have to be taken into consideration in an objective analysis of the effects of temporal resolution on rainfall thresholds.
In this paper we undertake such an analysis with the high-quality landslide database available in Switzerland (Hilker et al., 2009) and several high-quality rainfall records available for Switzerland from MeteoSwiss. We expand the impact of temporal resolution (hourly versus daily) on landslide prediction with sensitivity to two other important aspects which appear in many landslide studies: the normalisation of rainfall, which accounts for local meteorological properties (e.g. Marc et al., 2019), and the inclusion of antecedent rainfall, which provides additional information on soil state prior to landsliding, typically studied at local scales (Glade et al., 2000; Godt et al., 2006; Mirus et al., 2018a, b). The objectives of the paper therefore are (a) to provide an extensive comparison between hourly and daily rainfall data for the definition of rainfall thresholds, considering several practical consequences of choosing a higher temporal resolution; (b) to compare different strategies for the normalisation of rainfall thresholds; and (c) to explore whether antecedent rainfall does provide added predictive power at the regional/national scale.
We use several rainfall datasets and a landslide inventory (Hilker et al., 2009) (Sect. 2.1) to derive objective landslide-triggering rainfall thresholds at the daily and hourly scale using two different statistical methods (true skill statistic maximisation and frequentist approach) (Sect. 2.2) and to address some of the issues associated with higher temporal resolution data, such as the absence of accurate timing information for landslide occurrence (Sect. 2.3) and the lower quality (density) of rainfall data (Sect. 2.4). We follow up with methods which quantify the impact of rainfall threshold normalisation (Sect. 2.5) and the added power of antecedent rainfall on landslide prediction (Sect. 2.6).
In the work presented here we show that the choice of the optimal temporal resolution for the definition of rainfall thresholds might not be a straightforward exercise and that many more aspects should be taken into consideration before concluding that the highest temporal resolution is best for landslide prediction.
Previous studies (e.g. Marra, 2019; Gariano et al., 2020) have focused on the effect of temporal resolution and showed that using lower temporal resolutions leads to the underestimation of the thresholds. From a theoretical point of view, we argue that hourly rainfall data are superior to daily data as they can capture the short convective events lasting a few hours, which are known to trigger landslides and which get averaged out in the daily sum. Also in the work presented here, when we consider the exact same time period and landslide events, we see that performance at the hourly temporal resolution is superior to that at the daily resolution, especially for high-quality datasets (RHIR). On the other hand, we show with this work that there are several additional factors that should be taken into consideration.
Choosing hourly rainfall data usually implies dealing with shorter historical records, lower quality (sparser) rainfall datasets, and less rich landslide databases. Typically, in the past rain gauges were mostly recording precipitation daily, which means that the daily datasets go further back in time, allowing for an analysis spanning over many more years. Taking the example of Switzerland, since 1961 ca. 420 gauges are available for generating the RDI rainfall product. The first hourly gauges start to appear around 1981, and only 45 of those are consistently measuring until 2018. The much lower density of hourly rain gauges makes the quality of the interpolated product lower, or the distance between observed landslide and measured rainfall locations greater, and therefore less representative. In recent years (ca. since 2012) the number of hourly gauges has increased dramatically, with 270 stations at the moment, but this would allow an analysis of a maximum 7 years (compared to the 48 years available at the daily resolution). The variability in the optimal threshold for the different time periods is proof of the risk of using shorter time frames (see Fig. 3c).
At the hourly resolution also the richness of the landslide database is affected, as not only the date but also the timing of the landslide must be known. Staley et al. (2013) addressed this issue and showed the overestimation of thresholds when considering peak rainstorm instead of triggering intensity. This is common practice when the actual timing of the landslides is unknown. It generally leads to overestimation of the triggering events' maximum intensity but potentially also other triggering events' parameters. Here, the optimum threshold does not seem to change much, especially when the threshold is obtained by maximising TSS. This is true if at least the landslide date is known. Constraining the timing of landslides on the actual date seems a better choice whenever possible. Allowing a larger window (48 h centred on the actual timing) leads to bigger threshold changes, both if maximising TSS or following the frequentist approach. Nevertheless, in both cases, the performance is overestimated if the peak intensity is used to time the landslide, giving the user overconfidence in the threshold values themselves.
Some last factors to take into consideration when choosing the temporal resolution are that in many countries hourly records of rainfall could be even shorter and of lower quality than in Switzerland, and choosing to work with daily data might be even more important. Furthermore, thinking of utilising rainfall thresholds in an operational setting, daily forecasts are usually more reliable than hourly forecasts (e.g. Shrestha et al., 2013).
In all the comparisons between hourly and daily rainfall, we purposely refrained from comparing the value of the optimal thresholds and of the ED curves between hourly and daily analyses. In fact, to allow this comparison, strong assumptions must be made, which are clearly not realistic, such as assuming that the daily intensity is 24 times the corresponding hourly intensity. This is in agreement with the recommendation in Gariano et al. (2020) and other studies to not extend daily ED or ID rainfall thresholds into the sub-daily domain.
Two methods for rainfall threshold estimation were presented here (TSS maximisation and frequentist approach) to show that the threshold optimisation method used does not impact the main conclusions. While our work does not intend to compare the two methods, the results presented here show clearly that accounting for non-triggering events also in the definition of the threshold (e.g. maximising TSS) increases the robustness of the obtained threshold. In fact, while the performance and the parameters of the ED curves are affected using both methods, the frequentist approach seems to be more sensitive, with greater differences in optimal thresholds and greater variability in performance (e.g. see variability of the optimum ED thresholds in Fig. 2). Nevertheless, there might be conditions in which rainfall records are not available and only triggering events can be reconstructed from newspaper and other historical records. In those conditions, a method based only on triggering events would be the only option.
Lastly, we demonstrate the benefits of normalising the rainfall thresholds using high quantiles of rainfall intensities, quantiles of event properties, MAP or RDN. These are all particularly useful when using daily data, but we suggest MAP as it is general and a widely available climatological variable.
We define and test rainfall thresholds for triggering of landslides by taking advantage of a rich landslide database and several rainfall products available in Switzerland with the main objective of providing a comparison between hourly and daily rainfall resolutions, which considers data limitations associated with choosing a higher temporal resolution. We explore the impacts of other issues, like shorter datasets, unknown landslide timing, and more sparse rain gauge networks that usually accompany higher temporal resolution data, and we test the impacts of two typical analysis steps in threshold definition: normalisation of the threshold and antecedent rainfall.
Our main findings are:
Although hourly rainfall is more appropriate for forecasting landslides since it better captures triggering intensities, several other aspects should be taken into consideration before utilising it exclusively for threshold definition. Generally, hourly rainfall records are shorter (only available in recent years) and of lower quality (e.g. based on sparser rain gauge networks); the landslide database only seldom contains accurate timing.

In ideal conditions, hourly datasets do show the best predictive performance for landslides, but daily data are not far behind, potentially since they tend to capture cumulative storm totals that may also be relevant for landslide triggering. The benefits of hourly resolutions can be masked by the higher uncertainties in threshold estimation connected to using short records and unknown timing.

Whenever continuous rainfall records are available together with a landslide inventory, our work underscores the importance of including non-triggering events in the definition of optimal rainfall thresholds, not only because false alarms are an essential factor in warning systems, but also to increase the robustness of the threshold estimates.

Localisation of rainfall thresholds through normalisation is a useful procedure, which allows us to compensate for the spatial heterogeneity in rainfall regimes and landslide erosion process rates. We recommend using mean annual precipitation or a high quantile of rainfall intensity as a normalisation factor as an alternative to regionalisation.

Antecedent rainfall as a proxy of soil wetness state can explain some of the false alarms in rainfall thresholds, associated with lower antecedent rainfall, and some of the misses, preceded by heavy rainfall, even when considering an entire (heterogeneous) country. Although we did not formulate new rainfall-duration curves including antecedent rainfall, it is likely that these would increase predictive skill.
The rainfall products were provided by the Swiss Federal Office of Meteorology and Climatology MeteoSwiss (available for research purposes upon request). The gauge time series were downloaded from https://gate.meteoswiss.ch/idaweb/ (MeteoSwiss, 2019). The Swiss Federal Research Institute WSL provided the landslide data (available for research purposes upon request).
EL conducted the analysis and interpreted the results. PM and EL conceived the research and prepared the paper.
The authors declare that they have no conflict of interest.
This research has been supported by the Swiss National Science Foundation (grant no. 165979).
This paper was edited by Thomas Glade and reviewed by Francesco Marra and Ben Mirus.
Aleotti, P.: A warning system for rainfall-induced shallow failures, Eng. Geol., 73, 247–265, 2004. a, b
Berti, M., Martina, M., Franceschini, S., Pignone, S., Simoni, A., and Pizziolo, M.: Probabilistic rainfall thresholds for landslide occurrence using a Bayesian approach, J. Geophys. Res.-Earth, 117, F04006, https://doi.org/10.1029/2012JF002367, 2012. a
Bogaard, T. and Greco, R.: Invited perspectives: Hydrological perspectives on precipitation intensity-duration thresholds for landslide initiation: proposing hydro-meteorological thresholds, Nat. Hazards Earth Syst. Sci., 18, 31–39, https://doi.org/10.5194/nhess-18-31-2018, 2018. a, b
Brocca, L., Ponziani, F., Moramarco, T., Melone, F., Berni, N., and Wagner, W.: Improving landslide forecasting using ASCAT-derived soil moisture data: A case study of the Torgiovannetto landslide in central Italy, Remote Sensing, 4, 1232–1244, 2012. a
Brunetti, M. T., Peruccacci, S., Rossi, M., Luciani, S., Valigi, D., and Guzzetti, F.: Rainfall thresholds for the possible occurrence of landslides in Italy, Nat. Hazards Earth Syst. Sci., 10, 447–458, https://doi.org/10.5194/nhess-10-447-2010, 2010. a
Caine, N.: The Rainfall Intensity: Duration Control of Shallow Landslides and Debris Flows, Geogr. Ann. A, 62, 23–27, 1980. a
Chleborad, A. F.: Preliminary evaluation of a precipitation threshold for anticipating the occurrence of landslides in the Seattle, Washington, Area, US Geological Survey open-file report, 3, 39, 2003. a, b, c
Crozier, M. J. and Eyles, R. J.: Assessing the probability of rapid mass movement, in: Third Australia-New Zealand conference on Geomechanics: Wellington, May 12–16, 1980, Institution of Professional Engineers New Zealand, p. 2, 1980. a
Crozier, M. J.: Landslides: Causes, Consequences & Environment, Croom Helm, London, 1986. a
Dahal, R. K. and Hasegawa, S.: Representative rainfall thresholds for landslides in the Nepal Himalaya, Geomorphology, 100, 429–443, 2008. a
Finlay, P., Fell, R., and Maguire, P.: The relationship between the probability of landslide occurrence and rainfall, Can. Geotech. J., 34, 811–824, 1997. a
Frattini, P., Crosta, G., and Sosio, R.: Approaches for defining thresholds and return periods for rainfall-triggered shallow landslides, Hydrol. Process., 23, 1444–1460, 2009. a, b
Frei, C. and Schär, C.: A precipitation climatology of the Alps from high-resolution rain-gauge observations, Int. J. Climatol., 18, 873–900, https://doi.org/10.1002/(SICI)1097-0088(19980630)18:8<873::AID-JOC255>3.0.CO;2-9, 1998. a, b, c
Gaál, L., Molnar, P., and Szolgay, J.: Selection of intense rainfall events based on intensity thresholds and lightning data in Switzerland, Hydrol. Earth Syst. Sci., 18, 1561–1573, https://doi.org/10.5194/hess-18-1561-2014, 2014. a
Gariano, S. L., Iovine, G. G. R., Brunetti, M. T., Peruccacci, S., Luciani, S., Bartolini, D., Palladino, M. R., Vessia, G., Viero, A., Vennari, C., Antronico, L., Deganutti, A. M., Luino, F., Parise, M., Terranova, O. G., and Guzzetti, F.: Populating a catalogue of rainfall events that triggered shallow landslides in Italy, Rendiconti Online della Società Geologica Italiana, 21, 396–398, 2012. a
Gariano, S. L., Brunetti, M. T., Iovine, G., Melillo, M., Peruccacci, S., Terranova, O., Vennari, C., and Guzzetti, F.: Calibration and validation of rainfall thresholds for shallow landslide forecasting in Sicily, southern Italy, Geomorphology, 228, 653–665, https://doi.org/10.1016/j.geomorph.2014.10.019, 2015. a
Gariano, S. L., Melillo, M., Peruccacci, S., and Brunetti, M. T.: How much does the rainfall temporal resolution affect rainfall thresholds for landslide triggering?, Nat. Hazards, 100, 655–670, 2020. a, b, c
Germann, U. and Joss, J.: Operational measurement of precipitation in mountainous terrain, in: Weather Radar, Springer, 52–77, 2004. a
Germann, U., Galli, G., Boscacci, M., and Bolliger, M.: Radar precipitation measurement in a mountainous region, Q. J. Roy. Meteor. Soc., 132, 1669–1692, 2006. a
Glade, T., Crozier, M., and Smith, P.: Applying probability determination to refine landslide-triggering rainfall thresholds using an empirical "Antecedent Daily Rainfall Model", Pure Appl. Geophys., 157, 1059–1079, 2000. a, b
Godt, J. W., Baum, R. L., and Chleborad, A. F.: Rainfall characteristics for shallow landsliding in Seattle, Washington, USA, Earth Surf. Proc. Land., 31, 97–110, 2006. a, b, c
Guidicini, G. and Iwasa, O.: Tentative correlation between rainfall and landslides in a humid tropical environment, Bulletin of the International Association of Engineering Geology-Bulletin de l'Association Internationale de Géologie de l'Ingénieur, 16, 13–20, 1977. a
Guzzetti, F., Peruccacci, S., Rossi, M., and Stark, C. P.: Rainfall thresholds for the initiation of landslides in central and southern Europe, Meteorol. Atmos. Phys., 98, 239–267, https://doi.org/10.1007/s00703-007-0262-7, 2007. a, b, c, d
Guzzetti, F., Gariano, S. L., Peruccacci, S., Brunetti, M. T., Marchesini, I., Rossi, M., and Melillo, M.: Geographical landslide early warning systems, Earth-Sci. Rev., 200, 102973, https://doi.org/10.1016/j.earscirev.2019.102973, 2020. a
Highland, L. M. and Bobrowsky, P.: The landslide handbook – A guide to understanding landslides: Reston, Virginia, U.S. Geological Survey Circular 1325, 129 pp., 2008. a
Hilker, N., Badoux, A., and Hegg, C.: The Swiss flood and landslide damage database 1972–2007, Nat. Hazards Earth Syst. Sci., 9, 913–925, https://doi.org/10.5194/nhess-9-913-2009, 2009. a, b, c, d
Iadanza, C., Trigila, A., and Napolitano, F.: Identification and characterization of rainfall events responsible for triggering of debris flows and shallow landslides, J. Hydrol., 541, 230–245, 2016. a
Joss, J., Schädler, B., Galli, G., Cavalli, R., Boscacci, M., Held, E., Della Bruna, G., Kappenberger, G., Nespor, V., and Spiess, R.: Operational use of radar for precipitation measurements in Switzerland, vdf Hochschulverl. an der ETH Zürich, 1998. a
Kjekstad, O. and Highland, L.: Economic and Social Impacts of Landslides, in: Landslides – Disaster Risk Reduction, edited by: Sassa, K. and Canuti, P., Springer, Berlin, Heidelberg, 573–587, https://doi.org/10.1007/978-3-540-69970-5_30, 2009. a, b, c
Klose, M.: Landslide databases as tools for integrated assessment of landslide risk, Springer, https://doi.org/10.1007/978-3-319-20403-1, 2015. a
Leonarduzzi, E., Molnar, P., and McArdell, B. W.: Predictive performance of rainfall thresholds for shallow landslides in Switzerland from gridded daily data, Water Resour. Res., 53, 6612–6625, 2017. a, b, c, d, e
Marc, O., Gosset, M., Saito, H., Uchida, T., and Malet, J.-P.: Spatial patterns of storm-induced landslides and their relation to rainfall anomaly maps, Geophys. Res. Lett., 46, 11167–11177, 2019. a, b
Marra, F.: Rainfall thresholds for landslide occurrence: systematic underestimation using coarse temporal resolution data, Nat. Hazards, 95, 883–890, 2019. a, b
Melillo, M., Brunetti, M. T., Peruccacci, S., Gariano, S. L., Roccati, A., and Guzzetti, F.: A tool for the automatic calculation of rainfall thresholds for landslide occurrence, Environ. Modell. Softw., 105, 230–243, 2018. a, b
MeteoSwiss: Swiss ground-level monitoring networks data, available at: https://gate.meteoswiss.ch/idaweb/, last access: 18 November 2019. a
Mirus, B. B., Becker, R. E., Baum, R. L., and Smith, J. B.: Integrating real-time subsurface hydrologic monitoring with empirical rainfall thresholds to improve landslide early warning, Landslides, 15, 1909–1919, 2018a. a
Mirus, B. B., Morphew, M. D., and Smith, J. B.: Developing hydro-meteorological thresholds for shallow landslide initiation and early warning, Water, 10, 1274, https://doi.org/10.3390/w10091274, 2018b. a, b
Mirus, B. B., Jones, E. S., Baum, R. L., Godt, J. W., Slaughter, S., Crawford, M. M., Lancaster, J., Stanley, T., Kirschbaum, D. B., Burns, W. J., et al.: Landslides across the USA: occurrence, susceptibility, and data limitations, Landslides, 17, 2271–2285, https://doi.org/10.1007/s10346-020-01424-4, 2020. a
Molnar, P. and Burlando, P.: Variability in the scale properties of high-resolution precipitation data in the Alpine climate of Switzerland, Water Resour. Res., 44, 1–9, https://doi.org/10.1029/2007WR006142, 2008. a
Nikolopoulos, E. I., Borga, M., Creutin, J. D., and Marra, F.: Estimation of debris flow triggering rainfall: Influence of rain gauge density and interpolation methods, Geomorphology, 243, 40–50, https://doi.org/10.1016/j.geomorph.2015.04.028, 2015. a
Norton, K. P., Molnar, P., and Schlunegger, F.: The role of climate-driven chemical weathering on soil production, Geomorphology, 204, 510–517, 2014. a
Peres, D. J., Cancelliere, A., Greco, R., and Bogaard, T. A.: Influence of uncertain identification of triggering rainfall on the assessment of landslide early warning thresholds, Nat. Hazards Earth Syst. Sci., 18, 633–646, https://doi.org/10.5194/nhess-18-633-2018, 2018. a
Peruccacci, S., Brunetti, M. T., Luciani, S., Vennari, C., and Guzzetti, F.: Lithological and seasonal control on rainfall thresholds for the possible initiation of landslides in central Italy, Geomorphology, 139, 79–90, 2012. a, b
Peruccacci, S., Brunetti, M. T., Gariano, S. L., Melillo, M., Rossi, M., and Guzzetti, F.: Rainfall thresholds for possible landslide occurrence in Italy, Geomorphology, 290, 39–57, 2017. a, b, c
Petley, D.: Global patterns of loss of life from landslides, Geology, 40, 927–930, 2012. a
Piciullo, L., Calvello, M., and Cepeda, J. M.: Territorial early warning systems for rainfall-induced landslides, Earth-Sci. Rev., 179, 228–247, 2018. a
Ponziani, F., Pandolfo, C., Stelluti, M., Berni, N., Brocca, L., and Moramarco, T.: Assessment of rainfall thresholds and soil moisture modeling for operational hydrogeological risk prevention in the Umbria region (central Italy), Landslides, 9, 229–237, https://doi.org/10.1007/s10346-011-0287-3, 2012. a
Postance, B., Hillier, J., Dijkstra, T., and Dixon, N.: Comparing threshold definition techniques for rainfall-induced landslides: A national assessment using radar rainfall, Earth Surf. Proc. Land., 43, 553–560, 2018. a
Roccati, A., Faccini, F., Luino, F., Turconi, L., and Guzzetti, F.: Rainfall events with shallow landslides in the Entella catchment, Liguria, northern Italy, Nat. Hazards Earth Syst. Sci., 18, 2367–2386, https://doi.org/10.5194/nhess-18-2367-2018, 2018. a
Rossi, M., Peruccacci, S., Brunetti, M. T., Marchesini, I., Luciani, S., Ardizzone, F., Balducci, V., Bianchi, C., Cardinali, M., Fiorucci, F., Mondini, A. C., Reichenbach, P., Salvati, P., Santangelo, M., Bartolini, D., Gariano, S. L., Palladino, M., Vessia, G., Viero, A., Antronico, L., Borselli, L., Deganutti, A. M., Iovine, G., Luino, F., Parise, M., Polemio, M., and Guzzetti, F.: SANF: National warning system for rainfall-induced landslides in Italy, Landslides and Engineered Slopes: Protecting Society through Improved Understanding, 2, 1895–1899, 2012. a
Salvati, P., Bianchi, C., Rossi, M., and Guzzetti, F.: Societal landslide and flood risk in Italy, Nat. Hazards Earth Syst. Sci., 10, 465–483, https://doi.org/10.5194/nhess-10-465-2010, 2010. a
Schuster, R. L.: Socioeconomic significance of landslides, Landslides: Investigation and Mitigation. Washington (DC): National Academy Press, Transportation Research Board Special Report, 247, 12–35, 1996. a
Segoni, S., Leoni, L., Benedetti, A. I., Catani, F., Righini, G., Falorni, G., Gabellani, S., Rudari, R., Silvestro, F., and Rebora, N.: Towards a definition of a real-time forecasting network for rainfall induced shallow landslides, Nat. Hazards Earth Syst. Sci., 9, 2119–2133, https://doi.org/10.5194/nhess-9-2119-2009, 2009. a
Segoni, S., Piciullo, L., and Gariano, S. L.: A review of the recent literature on rainfall thresholds for landslide occurrence, Landslides, 15, 1483–1501, 2018.  a
Shrestha, D. L., Robertson, D. E., Wang, Q. J., Pagano, T. C., and Hapuarachchi, H. A. P.: Evaluation of numerical weather prediction model precipitation forecasts for short-term streamflow forecasting purpose, Hydrol. Earth Syst. Sci., 17, 1913–1931, https://doi.org/10.5194/hess-17-1913-2013, 2013. a
Staley, D. M., Kean, J. W., Cannon, S. H., Schmidt, K. M., and Laber, J. L.: Objective definition of rainfall intensity-duration thresholds for the initiation of post-fire debris flows in southern California, Landslides, 10, 547–562, https://doi.org/10.1007/s10346-012-0341-9, 2013. a, b, c, d
Stevenson, P.: An empirical method for the evaluation of relative landslip risk, Bulletin of the International Association of Engineering Geology-Bulletin de l'Association Internationale de Géologie de l'Ingénieur, 16, 69–72, 1977. a
Thomas, M. A., Mirus, B. B., and Collins, B. D.: Identifying physics-based thresholds for rainfall-induced landsliding, Geophys. Res. Lett., 45, 9651–9661, 2018. a
Thomas, M. A., Collins, B. D., and Mirus, B. B.: Assessing the feasibility of satellite-based thresholds for hydrologically driven landsliding, Water Resour. Res., 55, 9006–9023, 2019. a
Trezzini, F., Giannella, G., and Guida, T.: Landslide and Flood: Economic and Social Impacts in Italy, Springer, 2, 171–176, https://doi.org/10.1007/978-3-642-31313-4_22, 2013. a
Vennari, C., Gariano, S. L., Antronico, L., Brunetti, M. T., Iovine, G., Peruccacci, S., Terranova, O., and Guzzetti, F.: Rainfall thresholds for shallow landslide occurrence in Calabria, southern Italy, Nat. Hazards Earth Syst. Sci., 14, 317–330, https://doi.org/10.5194/nhess-14-317-2014, 2014. a, b
Wicki, A., Lehmann, P., Hauck, C., Seneviratne, S. I., Waldner, P., and Stähli, M.: Assessing the potential of soil moisture measurements for regional landslide early warning, Landslides, 17, 1881–1896, https://doi.org/10.1007/s10346-020-01400-y, 2020. a
Wilson, R. C. and Jayko, A.: Preliminary maps showing rainfall thresholds for debris-flow activity, San Francisco Bay Region, California, U.S. Geological Survey, 1997. a
Wüest, M., Frei, C., Altenhoff, A., Hagen, M., Litschi, M., and Schär, C.: A gridded hourly precipitation dataset for Switzerland using rain-gauge analysis and radar-based disaggregation, Int. J. Climatol., 30, 1764–1775, https://doi.org/10.1002/joc.2025, 2010. a, b